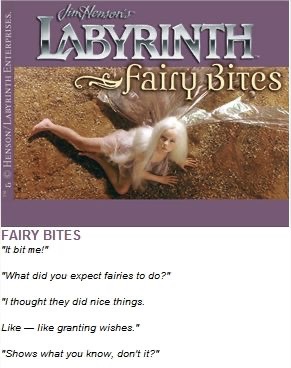 DMc and I just got back from having dinner out. It was a very good date, and I tossed my purse onto the kitchen island and hit the master bedroom to change into my jammies as soon as we got home. Shortly thereafter, I walk into the kitchen, and he's staring at my purse as though it contains a small demon. That's silly, of course, because I keep my pet demon in the left cup of my bra.
I step closer, and I hear my phone's ringtone. It's the music of the fairies from Labyrinth. I realize he's never heard it before (that he remembers), and to him, it sounds … somehow dangerous. Sweet, slightly mystical, with an implied threat woven amongst the charm of the bells.
TMc: It's my phone, baby. No worries. I'll check it in a minute.
DMc: It sounds … problematic. That ringtone. I don't like it.
TMc: You'd rather my default ringtone be the opening riff from Heart's 'Barracuda'?
DMc: Yes, please. At least you know you're about to be in trouble with that one.