My name is TMc, and I am a Ricotta Cheese Addict. I love it in all Italian dishes, added to pizza toppings, smeared over a big mess of sautéed zucchini and mushrooms. I've even been known to eat a couple of spoonfuls right out of the tub. That said, I have never made stuffed shells before, which is weird, when I think about it.
On reflection, I suppose I was afraid they'd be difficult to make. Not so! Mom showed me how she makes hers, and I'm sold. It's so very easy if your sauce is already made!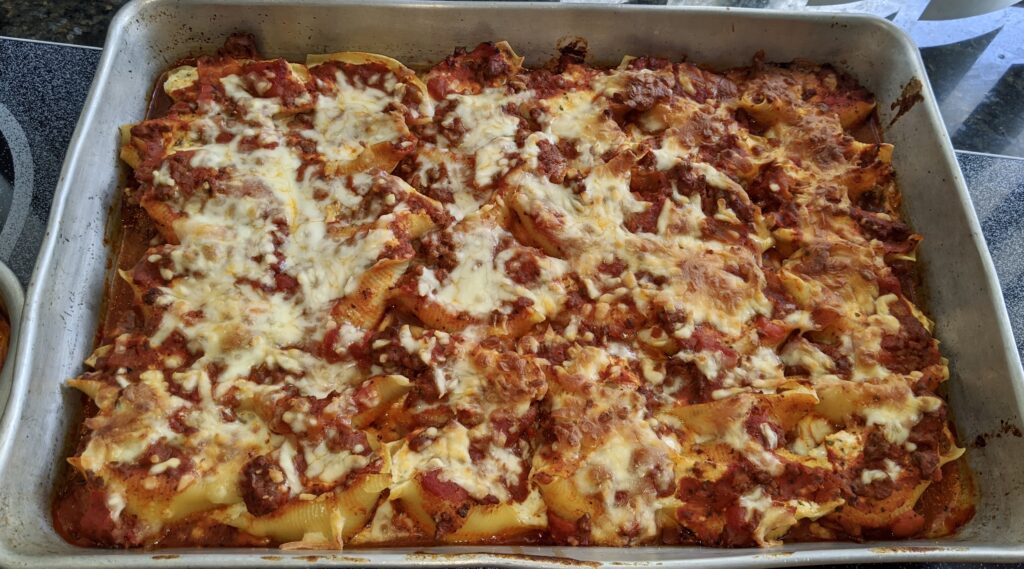 Mom's Stuffed Shells
My Mom's version of the Italian classic!
Ingredients
2

Boxes

Jumbo Pasta Shells

(12 oz per box)

2

Quarts

Ricotta Cheese

2

Cups

Parmesan Cheese

(we used 1/2 shredded and 1/2 green-can because that's what we had on hand)

8

Cups

Shredded Mozzarella Cheese

1/2

Cup

Italian Seasoning Mix

(Mom uses Tones Spaghetti Seasoning Spice Mix, and finds it at Sam's Club – it's SO good!)

4

Quarts

Prepared Italian Red Meat Sauce
Instructions
Thoroughly mix ricotta, Parmesan, half the mozzarella, and the Italian Seasoning mix, set aside

Cook the shells in heavily salted water to al dente, drain, spread out across a cookie sheet lined in paper towels, or even over a bath towel topped with paper towel

Let the shells cool down for about 5-10 minutes, then separate out the ones that got nested inside each other

Preheat your oven to 350 F

Spread a thin layer of sauce in your pan(s)

Fill the shells with cheese mixture (don't overstuff, but don't be parsimonious) and layer over the sauce in the pan(s)

Spread remaining sauce evenly across the tops of the filled shells

Sprinkle remaining mozzarella over the tops of the filled and sauced shells

Bake for 35-45 minutes at 350 F, uncovered – the time depends on how browned you like your cheese on top

Let set for 10 minutes before serving
Notes
The trick to making this easy-peasy is to have your meat sauce already done and on-hand.
This recipe yields about 80 shells, or 20 servings – scale up or down as needed.
We have experimented with portions – 3 shells is a smidgen miserly, 5 shells equals a food coma, and 4 shells is just right.
These freeze like a dream – to reheat, thaw in the fridge, then heat from cold for about 20 minutes, covered in foil.