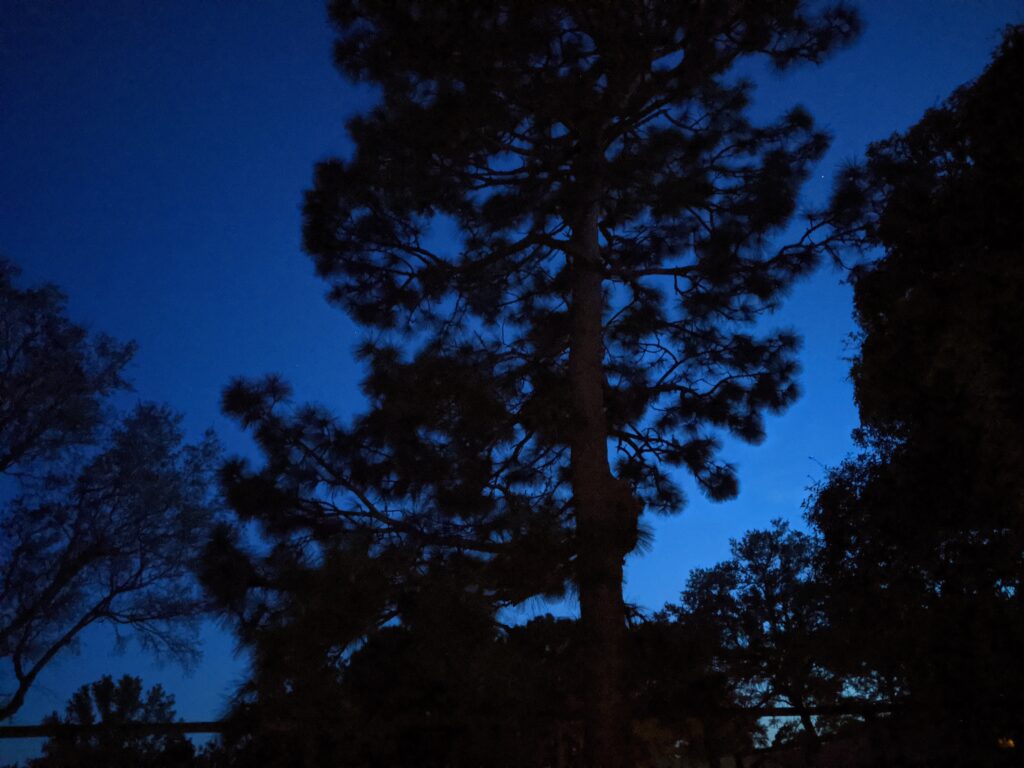 This is the evening just-post-sunset view from the back deck at Mom's. I was blessed to share this with her for 3 weeks. We both fully understand how fortunate we were to have had this time together during a truly appalling episode in our world.
This visit was so very different from our usual. Normally I'm home for 3-5 days or so, and we find ourselves in a bit of a frenetic social whirl, trying to get out and see everybody we can. This time, we were on complete lockdown. Mom picked me up from the airport, we hit the grocery and liquor stores, and were home alone from then on. It was a wonderful, peaceful, secluded time for us both. We did some fun decorating projects (spray paint for the win!), some deep-cleaning that needed done, and just had FUN. It's possible that one evening we may have watched way too many episodes of Love It or List It on HGTV, and wandered through the house with cocktails conceptualizing remodel plans that would convert her place into a multi-generational space for several adults. All it would take is time and money, so why not dream a little, eh?
I am confident that she will be okay for the foreseeable future. Her health is excellent, and her state of mind is superb. She stays in touch with her friends by phone and text, and is perfectly happy to stay inside or in the private back yard/deck area. There are some folks who are desperate to get invited over, but that's not happening any time soon. Mom pays careful attention to the news and overall status of the pandemic, and as she says, "I'm an old lady, and I want to be an older lady!" Perfect.
Of course I'm torn. I didn't want to leave Mom, but it was high time for me to head back to My Love in TX for a while. He's been a complete angel about taking care of the house and kitties while he works from home, and seeing him in the parking deck waiting for me today was beyond wonderful. We came home, I left my shoes in the garage, dropped my clothes into the washing machine, and put on my fuzzy robe. DMc poured me a huge glass of wine, and grilled me a steak as only he can manage. Heaven on Earth.
Yes, risks were taken during all this. Mom and DMc both chose to risk being potentially exposed if I were infected traveling. I chose to face possibly the biggest risk myself not once, but twice, going back and forth, because I cannot choose between My Love and My Mommy. Each trip put me in two airports and on a commercial jet for two hours. I did my best to be protected – hand washing, hand sanitizer, gloves, masks, social distancing, the whole bit. Soooo. The next two weeks or so will show if I have a guardian angel in my corner or not.
My only prayers at this point are:
(1) That we all who remain survive;
(2) That we all who remain manage to keep on top of our financials; and (selfish one next)
(3) That the day comes when I can stop living my life like Persephone – part of the year in a place I don't love at all, and part of the year in the hometown of my heart. 
Virtual hugs to all!