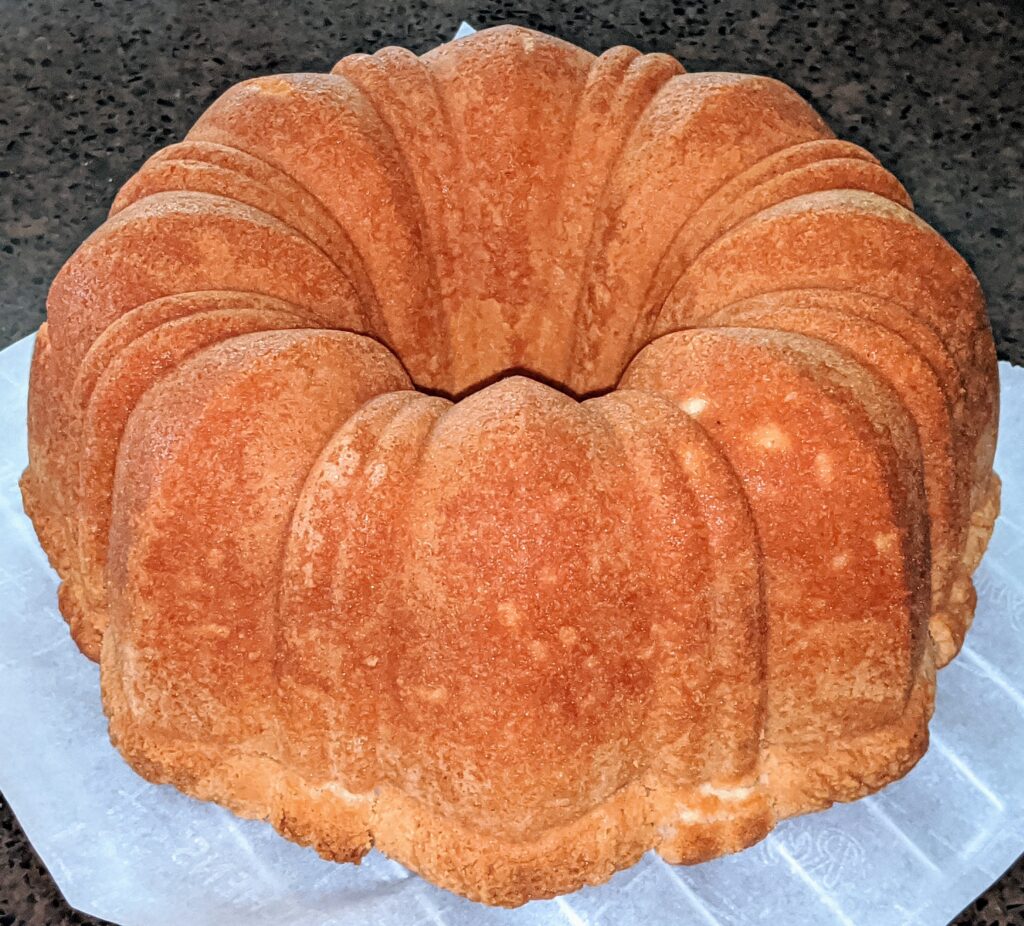 'Twas the (first) April of COVID-19. I had just returned from spending three weeks on lockdown with Mom. Back at the McCasa, I was checking the status of all our supplies, and mentally giving thanks for our tendency to keep plenty of grocery basics on-hand.
TMc: *taking inventory of the fridge, counting the eggs*
DMc: How many eggs do we have left?
TMc: Eleven.
DMc: And how many eggs does it take for a full-size pound cake?
TMc: Six.
DMc: And how many slices do we get out of one?
TMc: Eighteen-ish.
DMc: So…that's three servings of yummy per egg…that seems like really good ROI, right?
TMc: Ya know, it does, especially when you consider that we've got two full jars of Barney Butter, and everybody knows that pound cake with a schmear of almond butter is the Breakfast of Champions.
DMc: So…do we have all the other ingredients for said pound cake?
TMc: We do!
DMc: I think we should go for it! I mean, what if we never get all the fixins again?
TMc: Agreed. You go work so if we ever find eggs again we can buy some, and I'll channel Gogi here in the kitchen for a while!
Gogi's Pound Cake
A classic, and one of the few cakes I make from scratch. The 18-slice yield is an average – if you cut slim slices from this recipe baked in a classic big Bundt pan, you can get up to 24 slices.
Equipment
12-cup Bundt or Tube Pan (OR two 9×5 loaf pans)

Mixer, bowl, spatula, baking spray, the usual
Ingredients
3

Cups

All-purpose white flour

(aerated but not sifted)

1/2

tsp

Baking soda

2

tsp

Ground mace

1

Cup

Softened unsalted butter

(two 8-ounce sticks)

3

Cups

White granulated sugar

6

Large eggs

1

Cup

Sour cream

(full fat)

1

TBSP

Vanilla extract

1-1/2

tsp

Lemon extract

1-1/2

tsp

Almond extract
Instructions
Preheat oven to 325 degrees Fahrenheit

Mix flour, baking soda, and ground mace in a bowl or measuring cup

Cream butter and sugar in your mixer bowl until light and fluffy

Add eggs one at a time, mixing well after each

Add flavoring extracts, mix well

Add half the sour cream and half the flour mixture, mix well

Add the remaining sour cream and flour mixture, mix well

Spray Bundt or loaf pans thoroughly with baking spray

Bake at 325 for 1 hour and 10-20 minutes depending on your oven – do not open the oven for at least the first 40 minutes, and test with a skewer at around 1 hour and 5 minutes (if you use loaf pans, plan on it taking an hour, and test at 50 minutes)

When done, cool the cake pan on a cooling rack for 10 minutes, then up-end the cake onto a rack with parchment under it to prevent sticking

Let cool completely before storing in a cake keeper or freezing for future use
Notes
This cake is dense, moist, and lovely just plain. It's also a fabulous delivery method for special treats as a base, such as:
Lightly toasted with nut butter smeared on top of a slice
Spread with softened cream cheese and the fruit or pepper jam of your choice
Strawberry shortcake (add strawberry sauce and whipped cream or Cool Whip) – this works well in slices or with the cake cubed up
This freezes beautifully as well!