This is a fruity, very tangy sauce that wants to hang out with your poultry or pork.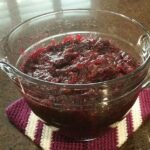 Print Recipe
TMc's Cranberry Cherry Sauce
While this sauce is delicious with poultry of all kinds, it really comes into its own as an accompaniment for DMc's Smoked Boneless Pork Loin or a nice ham. Although it's mighty fine on a nice roll with some turkey, mayo, and lettuce. I have also been known to pull out a cuplet of this in mid-summer, warm it up in the nuker, then pour it over BlueBell Home Made Vanilla ice cream. Makes a nice mix on an almond butter sammich too. It's a multi-tasker!
Ingredients
24

Ounces

Fresh Cranberries

1-1/2

C

Dried Cherries

1

C

White Granulated Sugar

1

C

Pure Maple Syrup

1

C

Orange Juice

1

C

Unsweetened Cranberry Juice

2

Whole Cinnamon Sticks

1/2

tsp

Ground Allspice

1/4

tsp

Ground Cardamom

2

TBSP

Ginger Liqueur
Instructions
Rinse your cranberries thoroughly, and pick out and toss any that look poorly

Put sugar, syrup, juices, and spices into a 4-quart or larger pot (deeper if you hate getting popped by hot liquid)

Over medium heat, cook and stir until sugar is dissolved

Add dried cherries, cook for 5 minutes

Add rinsed cranberries, cook for 10-12 minutes, or until the cranberries have mostly "popped" and are starting to soften

Turn heat down to low, add liqueur, stir

Cook on low for 10-15 minutes more, stirring occasionally

Decant into the container you will be cooling this in overnight or at least until it gels enough to work with easily - then pull out your cinnamon sticks

Cool and refrigerate - this is best if you can make it a day before for the flavors to gel overnight
Notes
First and foremost: if  you like sweeter cranberry sauce, definitely increase the sweetener(s). I specifically developed this recipe for my personal year-round consumption because I find all standard canned sauces to be revoltingly sweet.
This base recipe calls for 24 ounces of fresh cranberries (usually 2 of the smaller bags available during the season at most grocery stores); however, you could easily scale up and down as desired.
You can leave the cherries out if you prefer, and add another 12-ounce bag of fresh cranberries to the pot; basically, ensure you are making up the volume difference or things will come out overly runny.
This freezes very well - particularly in smaller servings - I use 4-oz disposable cups with lids, then stack those into a gallon freezer bag for storage.
If you don't have a ginger-based liqueur (I use King's Ginger), I would probably use either an orange or raspberry liqueur, or maybe just some plain brandy.