A cool-season classic. Adapted from multiple sources and kitchen experiments.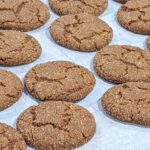 Print Recipe
TMc's Molasses-Spice Cookies
Don't shun the chopped candied ginger or black pepper. Trust me. Yield is about 3 dozen standard 1 TBSP scoop-size cookies, less the bigger you go.
Ingredients
12

TBSP

Unsalted butter

(1-1/2 sticks, softened)

1/2

cup

Dark brown sugar

(packed)

1/2

cup

White granulated sugar

1

Large egg

1

tsp

Vanilla extract

1/3

cup

Unsulphured molasses

2-1/2

cups

All-purpose white flour

1/2

tsp

Kosher salt

2

tsp

Baking soda

1

tsp

Ground ginger

1-1/2

tsp

Ground cinnamon

1/4

tsp

Ground allspice

3/4

tsp

Ground cloves

1/4

tsp

Ground black pepper

1/3

cup

Crystallized ginger

(chopped small)

3/4

cup

Turbinado sugar

(for rolling cookie dough balls in before baking)
Instructions
Mix together flour, salt, baking soda, ginger, cinnamon, allspice, cloves, and pepper in a bowl and set aside

In a mixer bowl, beat butter, granulated white sugar, and brown sugar until light and fluffy

Add egg, molasses, and vanilla and mix thoroughly

Add dry ingredients and beat at low speed until nicely combined - about 30 seconds at medium speed in a stand mixer

Add chopped ginger, mix well

Chill dough for 45 minutes in fridge (for ease of handling)

Preheat oven to 350 degrees F

Place turbinado sugar in a shallow bowl

Scoop out chilled dough and roll each scoop into a ball

Roll each dough ball in the turbinado sugar until coated

Place cookies on parchment paper on cookie sheets

Bake cookies at 350 until the outer edges of the cookies begin to set and centers are soft and puffy

Cool cookies on sheets for 5 minutes before carefully sliding the parchment with all the cookies onto a cooling rack

Let cool for several hours before packaging in air tight containers or zipper bags – these keep a few days at room temp, and up to several months in the freezer
Notes
You can make the dough up to several days in advance and refrigerate - set out on the counter to soften for a couple of hours or so before you start scooping if you take this route or you may well snap your scoop - I learned that the hard way.
The cookie-ball rolling gets messy - I keep a box of nitrile gloves in my kitchen and use some for this bit.
For a #16 disher (1/4 cup scoop), one standard cookie sheet accommodates 5 cookies (corners & one in the center).
For a standard 1.25-TBSP cookie scoop, one standard cookie sheet accommodates 12 cookies (3 x 4).
Bake about 11 to 13 minutes for smaller cookies.
Bake about 20 minutes for big cookies.
Rotate cookie sheet(s) halfway through bake time – I switch oven shelves & back-to-front.