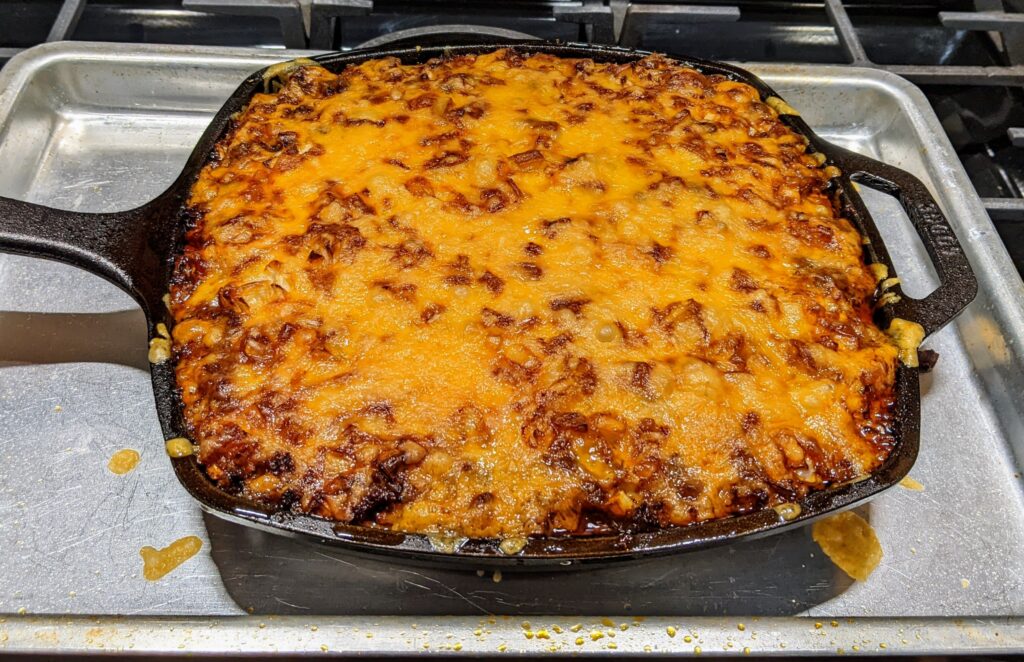 TMc: We probably should have used the round 12" skillet.
DMc: Nah. Layered enchiladas always taste better if they overflow the pan just a bit.
Even after 15 years together, I don't have many DMc recipes documented – they take special effort to obtain. My guy keeps his kitchen mojo locked up inside his head, so there's a 3-step process for me to extract and transcribe the knowledge:
Watch DMc make the dish and take detailed work notes;
Make the dish using the work notes while DMc supervises, updating said work notes as we go along; and
Write it up and post it once my results gets the DMc-publication-approval.
Fun tip: if you carefully offload the entire slab-o-enchiladas onto a big cutting board (this takes two or you risk losing the whole thing as you slide it out of the pan onto the board), then cut it into serving squares, you can then slide the whole thing, pre-cut, back into the original or a different serving pan. Excellent for pot-lucks!
DMc's Layered Enchiladas
We have this at least monthly at the McCasa. It makes delicious leftovers – top with a couple eggs over easy for a fantastic brunch!
Ingredients
2

lbs

ground beef

(we like 90% lean for this recipe)

1

can

red enchilada sauce

(15 oz)

2

tsp

red chile powder seasoning blend

1

tsp

ground cumin

2

tsp

dried Mexican oregano

(you can use regular Greek oregano if that is all you have on hand)

2

tsp

Worcestershire sauce

12-14

each

taco-sized soft corn tortillas

(white or yellow, whichever you prefer)

1

each

medium sweet onion, chopped small

(not quite minced but not too big either)

3

cups

shredded sharp cheddar

(we shred our own)
Instructions
Brown the ground beef, adding the Worcestershire sauce, chile powder seasoning blend, cumin, and oregano once the meat is about halfway cooked through – drain grease if needed

Mix the enchilada sauce into the meat and simmer for about 10 minutes

Preheat your oven to 375 degrees Fahrenheit

Grease your iron skillet for baking well

If your baking skillet/pan/dish might possibly overflow at all, place it on a rimmed cookie sheet prior to building the enchiladas therein

Layer 6-8 tortillas in the bottom of the skillet

Spread half the meat mixture over the tortillas

Sprinkle half the onions over the meat mixture

Sprinkle half the cheese over the onions

Layer 4-6 tortillas into the skillet

Repeat the meat / onion / cheese layers

Bake at 375 F for 1 hour – the cheese should be browning nicely and the edges should be bubbling like mad when it's ready to pull

Take enchiladas out of oven, and let set on the stovetop or a cooling rack for 10 minutes before you try to cut them – much like you do for a lasagna
Notes
If you cannot get your hands on a leaner percentage ground beef, just be sure to drain the beef before you return it to the pan to add the enchilada sauce for simmering.
Regarding the enchilada sauce,

pick your preferred heat level, just ensure it's red sauce. We like Hatch Tex-Mex Medium sauce for this recipe as it comes out mild after cooking and is fit for spice-sensitive guests.

Cheese quality really matters! We love Tillamook cheese, and we shred tons of the red-label Sharp Cheddar for this recipe.
You can absolutely use more tortillas across a larger-diameter pan that we used – just make your meat/onion/cheese layers more dispersed across the pan.
This approach works well with chopped cooked chicken and green enchilada sauce too!