So…I'm not a pie baker. Don't get me wrong – I love to *eat* pie. I just prefer to eat pie that somebody else has baked. For nearly my entire life, I thought that Mrs. Smith made all the pies, and that was that. Also, standard fruit pies, all the time – love me some fruit pies (cherry, peach, apple, etc.). I actually thought that I disliked pecan pie until I came up with this one for my father-in-law.
This recipe has no corn syrup in it. I know, I know, there are people out there gasping in horror! But I really dislike that corn-syrupy texture you get with "traditional" pecan pie. I found a no-corn-syrup version on allrecipes.com back in 2011 and customized it to be my own. It comes out looking different than the standard, but you can fix that if it bothers you but adding some pecan halves to the top of the pie filling.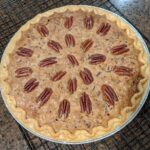 Print Recipe
TMc's Pecan Pie (no corn syrup!)
Based on a recipe from the allrecipes.com site named "Pecan Pie V." I made a few changes to ensure that I get a pre-made deep-dish pie shell full enough not to look parsimonious. Give this one at least 12 hours to solidify and meld flavors nicely before serving.
Ingredients
1

Deep-dish pie shell

(pre-made or your own scratch version, just ensure it's deep dish)

1

cups

Light brown sugar

1/2

cup

Unsalted butter, melted & cooled

(1-1/2 sticks, or 12 ounces)

2

Large eggs

1

TBSP

All-purpose flour

1

TBSP

Milk

(I usually use 1/2 & 1/2)

1

tsp

Vanilla extract

1

TBSP

Rum

(optional – I use a nice golden Anejo for this)

2

cups

Chopped pecans

20-30

Pecan halves

(optional – for the top, for more of a "traditional" visual)
Instructions
Dock your pie crust lightly, then blind-bake it for 10 minutes

Pull out pie crust and set aside, leave oven on but reduce temp to 325 F

Beat eggs until foamy in a large bowl

Add melted butter and mix well

Add flour and sugar and mix well

Add milk, vanilla, and chopped nuts and mix well

Pour filling into blind-baked pie crust, smooth out

Place pecan halves (if using) on top of pie in your pattern of choice

Bake pie in center of oven at 325 F for 45-50 minutes (keep an eye on it, cover your crust edges if needed to keep them from getting over-browned)

Pull and cool, uncovered, for several hours

If you are serving soon, you can leave it out safely for up to 18 hours – otherwise, I'd cover it and put it in the fridge
Notes
If you look up the original I based this on, you will see I dropped the baking temps and adjusted the times to work best in my oven.
You can tell it's done by watching the surface – it puffs up around your top pecans and starts to crack when it's time to pull it.
If you end up with any extra filling (sometimes I do because all pie crusts are not created equal), just put that filling into a standalone big muffin tin or something and bake – this is delicious with ice cream over it!