This is one of my most requested cookies. People just love a good chocolate chip cookie! My recipe is based on the original Toll House recipe with a few tweaks for my personal preference. Basically, these cookies have a tad too much vanilla, salt, and chocolate (not in the recipe: I often throw in extra chips in different sizes depending on what I've got partial bags of lying around). Also, I use all light brown sugar and butter for a particular texture and chew. That's it, I think …
Oh, here's a freebie: this dough is the base for over half of the cookies I bake. I just change up the chips and extract flavor, and add fruit and nuts as desired. Occasionally I add some dried spices for a particular flavor profile (my date pecan cookies love some ground cardamom in 'em). A few options I have been known to make using this dough recipe as a base include:
Chocolate chip-raisin-walnut
White chip-cranberry-pecan
Date-pecan-toffee bit
Experiment! Enjoy!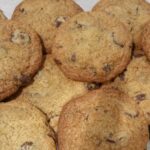 Print Recipe
TMc's Classic Chocolate Chip Cookies
Based on the original Toll House recipe, tweaked to my personal preferences. I strongly prefer the crispy edges/chewy middle that using all light-brown sugar produces. This particular recipe is highly scalable – see the recipes notes at the bottom for more info on that topic.
Ingredients
16

TBSP

Unsalted butter

(2 sticks – softened)

1-1/2

cups

Light brown sugar

2

Large eggs

2

tsp

Vanilla extract

1

tsp

Kosher salt

(plus a pinch)

1

tsp

Baking soda

2-1/2

cups

All-purpose flour

2

cups

Chocolate chips

(10-oz bag is about this much, I use Ghirardelli 60% cacao chips as a rule)

1

cup

Chopped nuts of choice

(optional)
Instructions
Preheat oven to 350 degrees

Stir flour, salt and baking soda together in a small bowl with a fork

Cream butter and sugar in a mixing bowl until light and fluffy

Add eggs and extract and mix well

Add dry ingredients and mix well

Add chips (and nuts if used) and mix just until incorporated

Scoop out dough and place scoops flat side down on parchment paper on baking sheets – no more than 12 per standard cookie sheet

Bake for about 12 minutes at 350 degrees until cookies are golden brown

Slide parchment with cookies onto cooling racks

Let cool completely before bagging or containerizing
Notes
This recipe is very easy to scale up and down based on your butter and egg. Like so:
1 stick (8 TBSP) butter + 1 large egg + everything else in the base recipe halved yields approximately 2 dozen cookies
3 sticks (24 TBSP) butter + 3 large eggs + everything else in the base recipe times 1.5 yields approximately 6 dozen cookies
…and so on.
My only caution here is that a 1.5 times recipe nearly overflows my 4.5 quart KitchenAid stand mixer bowl. I would not try for more than 6 dozen cookies' worth of dough in one batch unless you've got a really big mixer bowl (at least 6 quart).