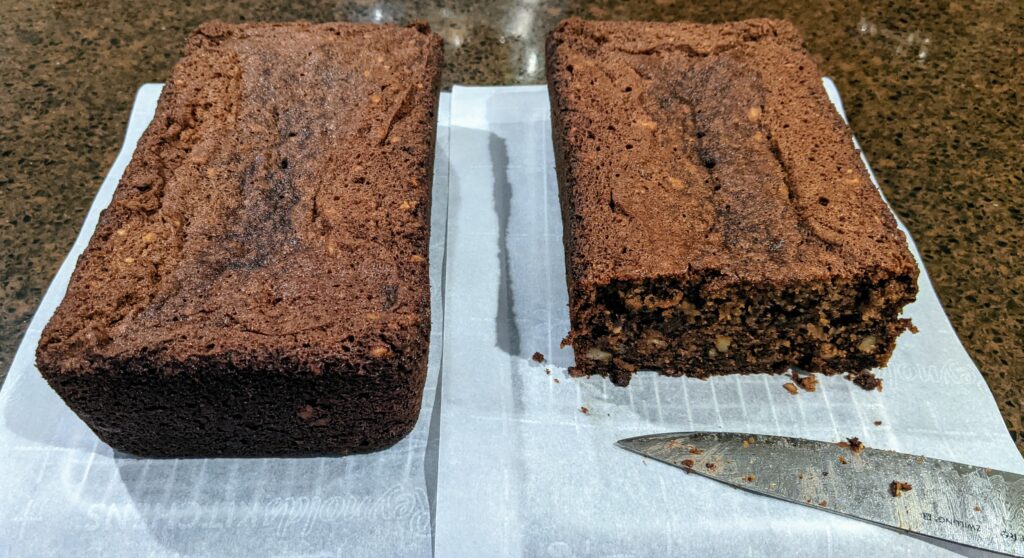 Earlier this year, I wandered into the kitchen to see DMc helpfully walking over to the trash can with the paper plate of overripe bananas I had been deliberately aging for this recipe. I hollered, "STAHP!" He replied, "These are no good, I'm getting rid of them." Thus ensued a lively conversation about the proper state of bananas for nut bread. Is it this bread particularly beautiful to look at? Not compared to something like Gogi's Pound Cake, no. Is it incredibly delicious and more-ish? Oh, yeah. That it is.
TMc's Banana Nut Bread
Gotta use up those nanners!
Equipment
Baking Spray

Two 9×5 loaf pans

Cooling rack(s)

Mixer, bowls, meauring cups and spoons, the usual
Ingredients
2

Cups

All-purpose flour

2

tsp

Baking soda

1/2

tsp

Baking powder

1

tsp

Kosher salt

1/4

tsp

Ground nutmeg

2

tsp

Ground cinnamon

(I like Ceylon cinnamon)

1/4

tsp

Espresso powder

(can't go wrong with King Arthur brand)

1/2

Cup

White granulated sugar

1-1/2

Cups

Light brown sugar

1

Cup

Unsalted butter

(2 sticks, softened)

4

Large eggs

2

tsp

Vanilla extract

2

Cups

Overripe mashed bananas

(about 4 med-large ones)

1-1/2

Cups

Chopped toasted nuts

(Waluts or pecans recommended)

1

Cup

Chocolate chips

(I like the Ghirardelli mini-chips for this)
Instructions
Preheat your oven to 325 F

Measure out and add the flour, baking powder, baking soda, salt, nutmeg, cinnamon, and espresso powder to a bowl, mix together

Add the sugars and softened butter to your mixer bowl and cream until light and fluffy

Add the eggs one at a time into the wet mix until fully blended

Add the vanilla extract into the wet mix until fully blended

Add the chopped nuts, chocolate chips, and mashed banana and mix only until everything is just wet

Add the dry ingredients half at a time, mixing until just combined each time

Spray your loaf pans thoroughly with baking spray

Divide the batter equally between loaf pans

Bake for approximately 60-70 minutes, but start checking at about 50 minutes in case your oven cooks hot

When the loaves no longer jiggle at all in the middle, test with a bamboo skewer – if it comes out wet at all, put the loaves back in for about 7 minutes, then test again until the skewer comes out with just a moist crumb

Let the loaves rest on a cooling rack in their pans for about 30 minutes

Remove the loaves from the pans and continue to cool on parchment on the rack for another hour if storing, or cut and enjoy if serving immediately
Notes
This recipe gets very brown – you may think it's burnt, but it's not – so don't get nervous and pull it too soon.
I find that the baking time for this recipe is very close to what's needed for Gogi's Pound Cake – you know you're about there when you start to smell caramelized sugar and the bread starts to pull slightly away from the sides of the pan.
If you want to make the full batch in a Bundt pan, cook it for about 15 minutes longer, as with any dense cake/quick bread.
You can easily halve this recipe for a single loaf.
This bread will keep on the counter in an airtight container or foil (recommend non-stick) for a couple of days, but if it's not going to be eaten by then, wrap it up in parchment and foil and freeze it – it's too darn good to waste.
To reheat, put it in slices of about 3/4" thickness on non-stick foil on a cookie sheet in a 350-degree oven for about 7 minutes.
You don't have to use pre-toasted nuts, but I always have toasted walnuts and pecans on-hand so I use them.
Try to avoid adding anything sticky like chopped dates or dried fruit to this one – it's perfect without adding more texture.
That said, some unsweetened toasted coconut might be a nice addition, I may try that sometime…